Seller's Guide
"I promise to be honest, get results and exceed your expectations."
Thank you for choosing to put your trust in me for the process of selling your home. Every member of my team is committed to ensuring that ALL of your real estate needs are not just met, but exceeded! I've created this book for your convenience and we hope that it will be a valuable resource. While the entire process is outlined for you here, please know that I will be staying in constant contact with you throughout the process. Your experience will be unique and I will adjust our service according to your wants and needs. My focus is on your complete satisfaction.
Associate Vice President

Full Time local Realtor for 30 years
Ranked #1 Agent in My Office since 2015
Ranked Top 1% Nationwide
Ranked Top 1% at Shorewest Realtors
270+ Million in Career Sales
2016-2022 Voted Milwaukee Magazine's Five-Star Award for Customer Satisfaction
Licensed Agent & Client Care Manager
Full Time local Realtor for 19 years
Client Care Manager for Wendy Manzke since 2015
"Working with Wendy was great. She was professional, honest and always available. She provided quick responses to our questions. Our selling experience went exactly as she described it would. We are very grateful for all her help and highly recommend her services."
-Christopher & Lori P.
"Wendy is very professional and responsive. We appreciated her positive attitude and patience in helping us find the right home for us. She represented us well throughout both the buying and selling process. This was our first time selling a house and she helped us every step of the way to ensure we could sell our home quickly. Can't recommend Wendy enough!"
-Emily V.
Deep dive into what makes your home special
Project managing every detail
Assist to prepare home to list
Professional Staging if needed
Professional Photography
Professional interior & exterior videos
Professional Marketing Materials
Interactive storytelling to showcase the unique lifestyle connected of your home
International Marketing & Exposure
In-Depth Review & Consultation
Getting to the heart of your unique home
Every property is unique and it's my job to understand and communicate the lifestyle connected to your home and match it to the right buyer. I spend the time to get to know your goals, your home, and your community in detail.
Project Management
Selling your home can be an overwhelmingly complex process. I'm here to make it easy, seamless and stress-free. Count on me to carefully manage every detail, explain each step and ensure you are constantly up to date so you can keep running your life without worry.
Your home is a high-value asset and a cherished place of belonging. I believe the marketing of your home should convey its true worth.
Taking beautifully framed photography is the foundation of property marketing and essential for visually communicating the story of your home. I am committed to the top-of-the line professional photography, using HDR cameras that ensure perfect lighting and detail.
Your home will receive a custom video tour for prospective buyers to tour your home online. Many buyers start their home search online. Our goal is to capture buyer's interest online and in-person.
Interactive & Print Storytelling
Interactive storytelling is a way of bringing together narrative design and different types of media to create immersive experiences for homebuyers. Elevating the conversation above simple features, I focus on the unique lifestyle that embodies your property and community.
Print provides something tangible to for buyers to walk away with. Featuring compelling designs, rich narratives and vivid images to tell your home's story, my brochures ensure your home stands out above the rest.
With advanced analytics tools, I will always know how your property performs online. Discover how many unique visitors view your listing and measure their level of engagement.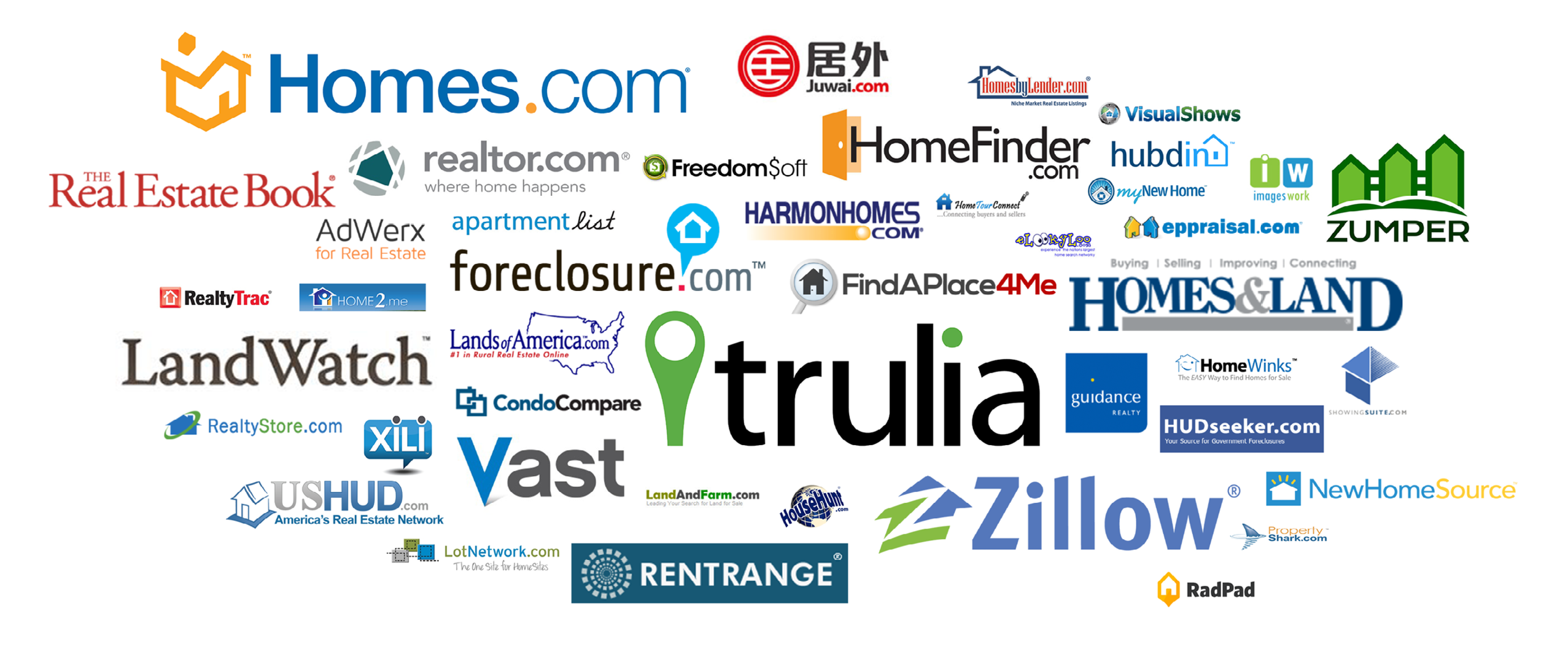 As the online world increasingly becomes the primary source for property searches, it is more important than ever that a marketing strategy of diverse visibility and captivating content is used. My job is to filter through the complexity and to design a customized marketing program gets your home in front of the right demographic of buyers.
Unlike what other Realtors might tell you, posting on MLS is not enough. It's critical that your home is posted everywhere to get maximum visibility - on all listing portals, social media channels, websites and blogs. But visibility is only half the solution. Making your home stand out requires me to appeal to the dreams and desires of perspective buyers.
Wisconsin's Largest Home Seller
WE ARE A TEAM...
Proudly independent
Dedicated to serving the housing needs of Wisconsin
Committed to unsurpassed customer service
Pledged to share our talents for mutual growth and prosperity.
FULL SERVICE. FULL SUPPORT.
Buy or Sell Your Home. Relocate with Ease. Finance Your Dreams. Insure Your Future. Research Your Title. Make it Yours. Owning Without the Headaches.
"I understand that selling a home in today's market can be challenging."
From the shores of Lake Michigan to the north, south and west, I know this real estate market well! My goal is to make buying and selling as stress free and enjoyable as possible, while maintaining the highest level of service to all of my clients. My guarantee is to provide accurate, skilled analysis and sound real estate advice.
I promise to tell you the truth about your property.
I promise to respect your confidences.
I promise to give you good advice.
I promise that you will understand what you're signing.
I promise to follow through and follow up.
discuss best strategy for selling
formal listing presentation
property evaluation
complete market analysis
establish sales price
execute listing agreement
marketing campaign started
professional photography taken
submitted to multiple listing service & sign installed
showing times selected
property brochure delivered
direct mail & e-mail campaigns launched
open house scheduled
offer(s) received & negotiated
offer accepted
inspections & disclosures completed
appraisal completed
contingencies removed
property closes
refer friends to us!
MY HISTORY & ACHIEVEMENTS
Celebrating 30 Years in Real Estate
Over $24 Million sold in 2022
HISTORY
• Life-Long Area Resident
• Full-Time Real Estate Agent since 1993
• Associate Vice President since 2002
• President's Club Member since 2003
• National Sales Award Recipient yearly since 2003
ACHIEVEMENTS
• 2019-2022 Ranked #1 Agent in my office with 336 Homes Sold and $103+ Million in Sales
• 2015-2022 Ranked in the Top 1% for Sales Volume and Homes Sold at Shorewest
• 2015-2022 Real Trends Top 1% for Real Estate Sales Nationwide
• 2017-2022 Voted Milwaukee Magazine's Five-Star Award for Customer Satisfaction
• $295 Million in Career Sales
• Certified Relocation Specialist
• Accredited Buyer's Agent
Wendy Manzke 262.893.7175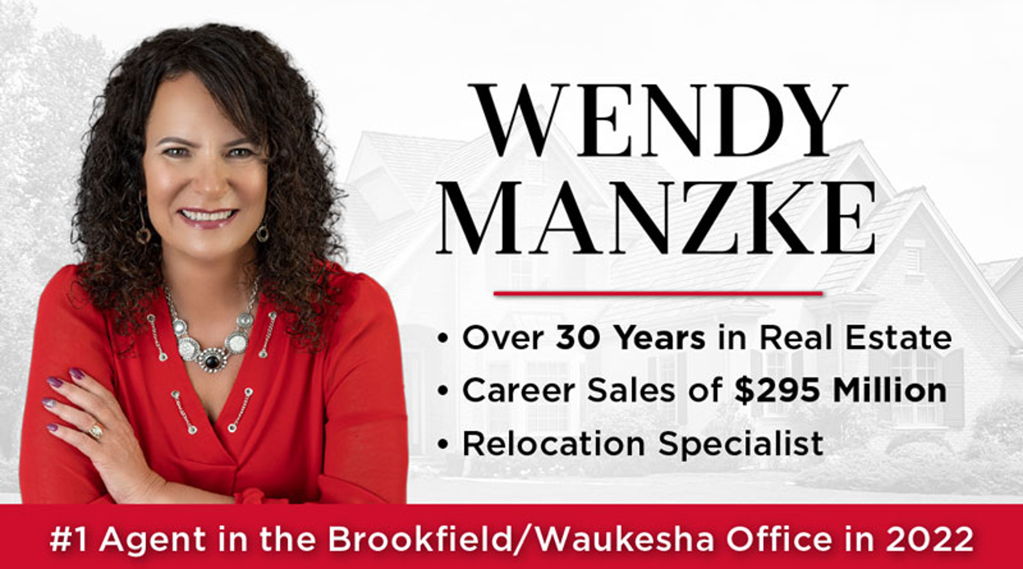 21675 E Moreland Blvd Suite 500, Waukesha, WI 53186
Not intended to solicit Sellers or Buyers currently under written contract with another Realtor®.